"70% chất lượng cafe đều xuất phát từ nông trại"
Nhận thông tin về
CÁC SỰ KIỆN MỚI NHẤT
Đăng ký ngay để nhận thông tin về các sự kiện mới nhất của Sơn Pacamara như workshop, class, event, …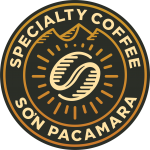 Sơn Pacamara– là thương hiệu cà phê thủ công chất lượng cao theo tiêu chuẩn "specialty coffee" quy trình from farm to cup tại Việt Nam, với mọi công đoạn đều được chăm chút tỉ theo từng mẻ nhỏ nhằm tối ưu hoá chất lượng hạt cà phê. Từ đó đem đến những trải nghiệm cà phê đa chiều và tinh tế nhất.

Khách hàng nói về chúng tôi
We came to Son Pacamara without any expectations. It's far into the countryside, down a bumpy road and we were met by a very friendly owner who served us coffee and introduced us to Dustin, his assistant. We then did a
3 hour
coffee tour with Dustin, which was a fascinating experience. We learned about the different coffee trees, species, how and where they grow, elevation, climate and lots more. Then we examined coffee berries, green beans and learned about the rinsing and fermentation process. After
that
we spend a long time talking about the roasting phase, how to roast to get the right aroma, mouthfeel, taste and so on, and
finally
we roasted our own coffee beans. In the end, we ground some of our coffee and tasted it. The whole experience was eye-opening for us. We learned so much, and we did so in an unhurried environment with a super passionate teacher (Dustin). It was comfortable, interesting and meaningful for us, and the scenery during the whole thing was breathtaking. We're glad we went out of the way to visit Son Pacamara. We came home with a great experience, happy memories and super tasty coffee that we roasted ourselves.
Amazing. This man is a genuine soul who really cares for his work and is more than happy to share his enthusiasm with others. I came looking to buy specialty coffee, Son had shown me around his farm, answer questions and make me coffee(s)! …and record an interview!
I will be sure to visit Son again and would recommend his tour and expertise to anyone with an interest in coffee passing through Vietnam.
Trải nghiệm thực tế để hiểu hơn về "Cà phê đặc sản" (Specialty Coffee), về đặc tính ưu khuyết của từng giống cà phê, về mùi vị hấp dẫn của hạt cà phê. 
Cà phê ngoài vị mặn, chua, ngọt, đắng, còn có cả vị thơm của các loại trái cây, hương hoa, vị trà đen và rất nhiều vị khác nữa.
Tất cả mang đến một trải nghiệm vô cùng thú vị về thưởng thức cà phê. 😍😍😍
Khám phá thêm hành trình của specialty coffee tại #sonpacamara
Instagram has returned invalid data.